Dissolvers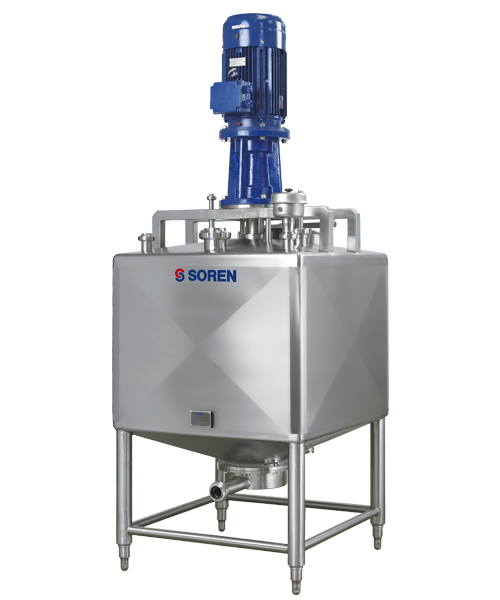 Dissolvers
Soren dissolvers are designed to quickly incorporate dry solid or semi-solids into a liquid or liquid product. Soluble materials are dissolved very quickly and non-solubles are dispersed thoroughly so that finely divided particles form a more stable suspension. Plasticised fats and oils when mixed with warm water or liquid product are dispersed and/or converted to a loose emulsion.
Soren was the first to design dissolvers placing the impeller's shaft drive on the upper side of the tank, thus reducing to zero any leakage problem and noise problem. This design, along with a special impeller, allows to pull the added ingredients through the liquid vortex at the center and propels the mixture up the walls in continuous recirculation.
For processing
Bakery products rerun, candies, chocolate syrup, coffee whiteners, dips, ice cream mixes, ice cream rerun, icings, jellies, marmalades, pie filling, puddings, starch slurry, salad dressing, sauce, gravies and yeast slurries.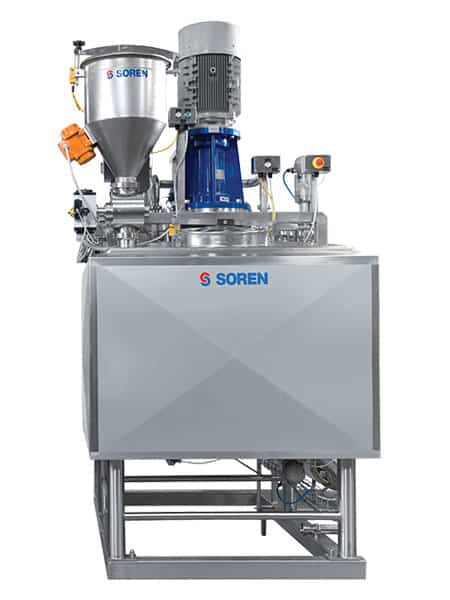 Specifications for all ASA & ASA-R Dissolver
Product contact surfaces made of AISI 316 St. Steel
Flat top with manway (dome for ASA-R)
Air vent and CIP sprayballs
Heat exchange jacket for circulation of media up to 5 bar (option)
N° 4 polish internal surface, 2B external
Mineral wool insulation, 50 mm thick (option)
Outer jacket of AISI 304 St. Steel (option)
Product connections on top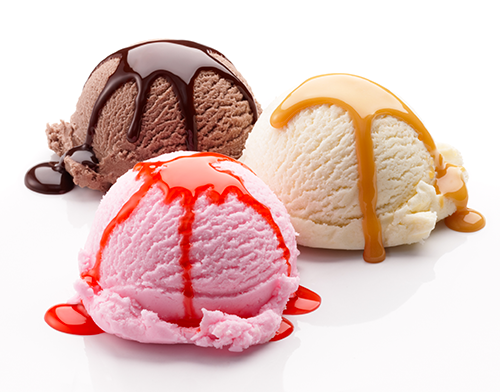 I Dissolvitori della Soren sono progettati per miscelare rapidamente ingredienti secchi o semi liquidi in un liquido o in un prodotto liquido. I prodotti solubili, sono rapidamente disciolti mentre i prodotti non solubili vengono completamente dispersi affinché particelle finemente divise formino una sospensione più stabile. Grasso plastificato e olio quando miscelati con acqua o un prodotto liquido caldo vengono dispersi e/o trasformati in una debole emulsione.
Specifiche per tutti i Dissolvitori ASA e ASA-R
Parti a contatto con il prodotto in AISI 316L • Coperchio piano con boccaporto (bombato per ASA-R) • Sfiato, sfere di lavaggio CIP • HIntercapedine per acqua/vapore fino a 5 bar (opzionale) • Finitura interna: satinatura fine, finitura esterna: 2B • Coibentazione in lana minerale 50 mm (opzionale) • Rivestimento esterno in AISI 304 (opzionale) • Connessioni per alimentazioni ingredienti
La Soren è stata la prima azienda a progettare il traino della turbina posizionato sulla parte superiore del tank, riducendo a zero il problema di perdite dalle tenute e del rumore. Questa soluzione con l'aggiunta di una turbina speciale, convoglia gli ingredienti al centro di un vortice liquido per poi spingere con forza la miscela contro le pareti in un continuo ricircolo.
Per produrre: recupero prodotti da forno, caramelle, sciroppi di cioccolato, surrogato di latte, salse, miscele di gelato e recupero scarti, glasse, gelatine, marmellate, creme, budini, pastella
d'amido e lievito , condimenti per insalate, salse e sughi.
[display-posts post_type="macchine-e-impianti" taxonomy="macchine_e_impianti_taxonomy" tax_term="dissolvitori" wrapper_class="product-list" image_size="full" order="ASC" orderby="title"]