Process Tanks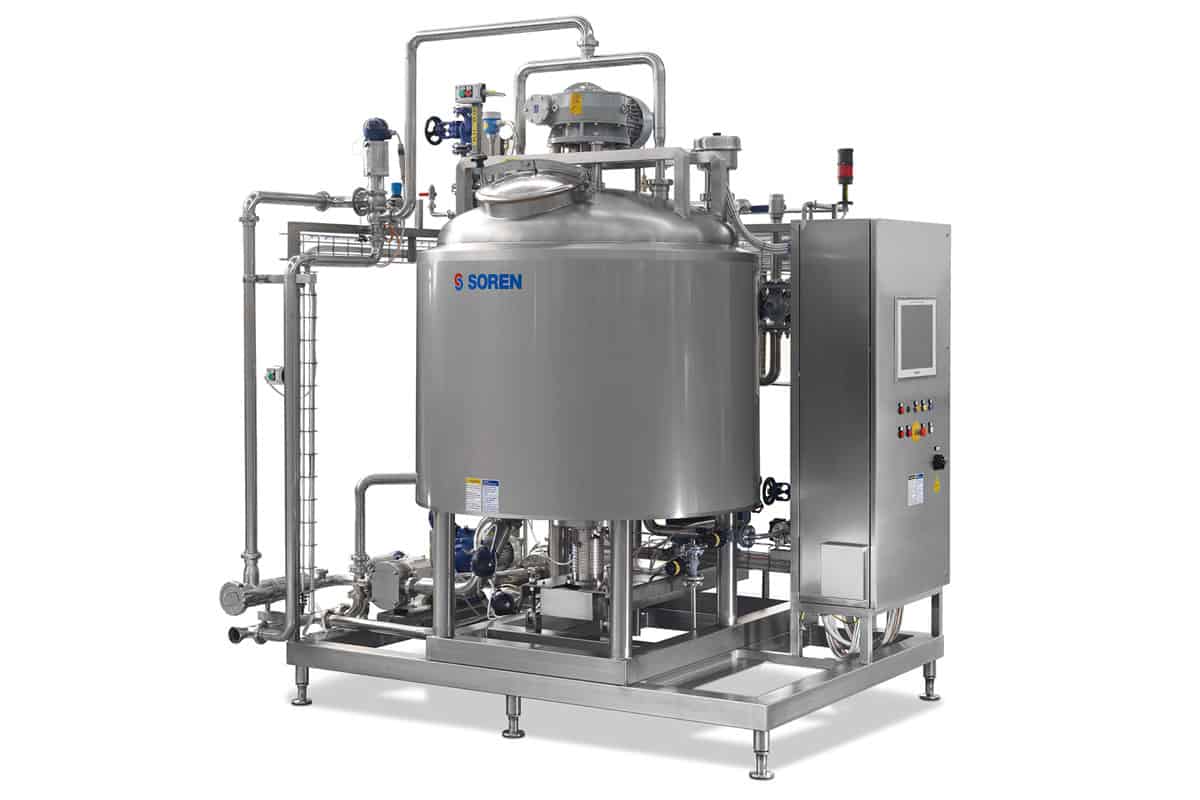 PCSD 15
Our worldwide distributed tank is the most advanced and reliable technology in when it comes to any mixing, cooking or cooling batch applications.
With over 50 years of experience, Soren has developed the ultimate design in order to achieve the perfect combination between homogeneous mixing and efficient heat transfer: the PCSD -15 tank.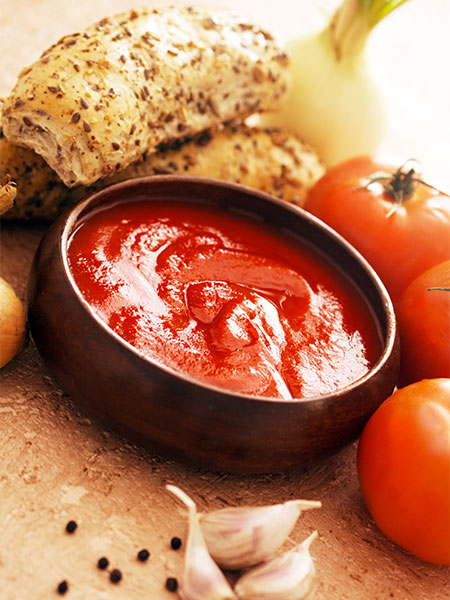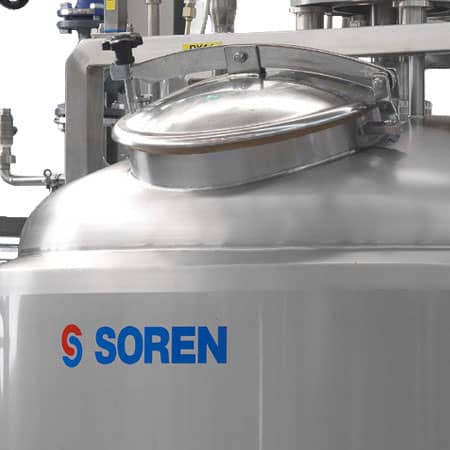 Through its different kinds of agitators, the PCSD tank can process any kind of viscous products:
Anchor agitator: gently scrapes the product off the surface of the tank every 1,5 seconds. It avoids any damaging to the product that may be caused by a prolonged exposition to temperature peaks (high or low).
Bottom cowless impeller: driven by a 90° belt transmitted high power, high rpm motor. It allows the perfect distribution of ingredients, reaching up to 70% powder content in the mix.
Option – Electroemulsifier: driven from the top by a high power, high rpm motor. It allows to process products with a significant amount of both water and oil phases by creating an extremely stable emulsion through its rotor-stator agitation mechanism.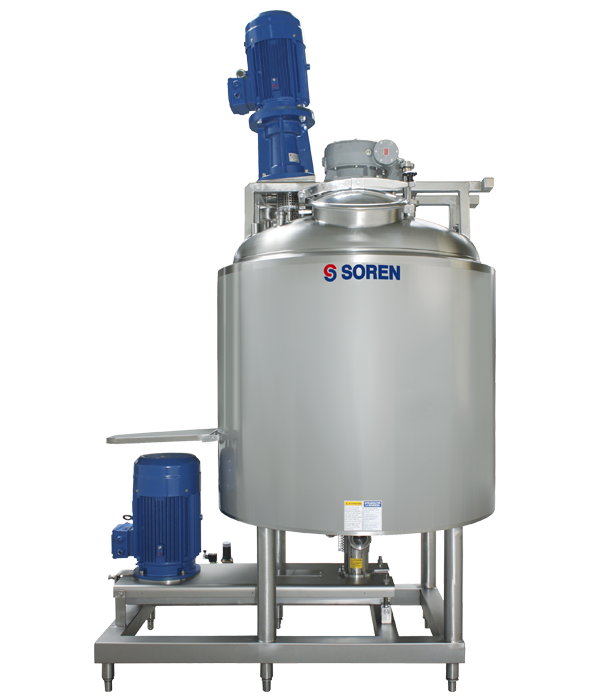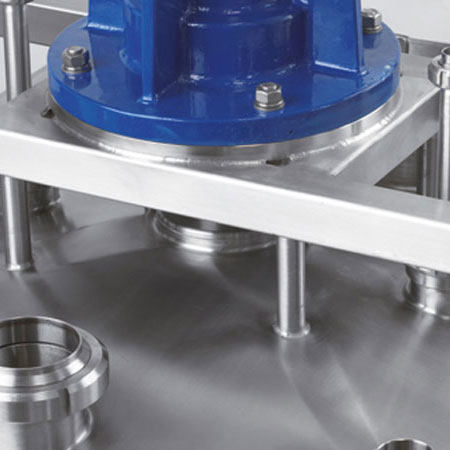 Other standard features:
Material in contact with product: AISI 316L
Dome top with circular manhole, dim: 420 mm
Cone bottom with 15° angle
Hand-welded double jackets on walls and bottom for water or steam circulation, with a maximum operating pressure: 4 bar
Mineral wool insulation covered with AISI 304 sheet
Baffle
Inside surface finish: fine polished
Outside surface finish: 2B
Connections for ingredients feeding
C.I.P. connections with washing balls
Vent
Adjustable sanitary feet
90
degrees belt transmitted high power
70
percent powder content in the mix
420
mm dome top with circular manhole
OAM
Specifically designed to mix high viscosity products (perfect for sponge batter), our OAM process tank is a high performing heavy duty machine.
It has rotor-stator fence agitation system with only a 2 mm space between its arms: this allows to transfer high mechanical force as well as a great share effect to the product.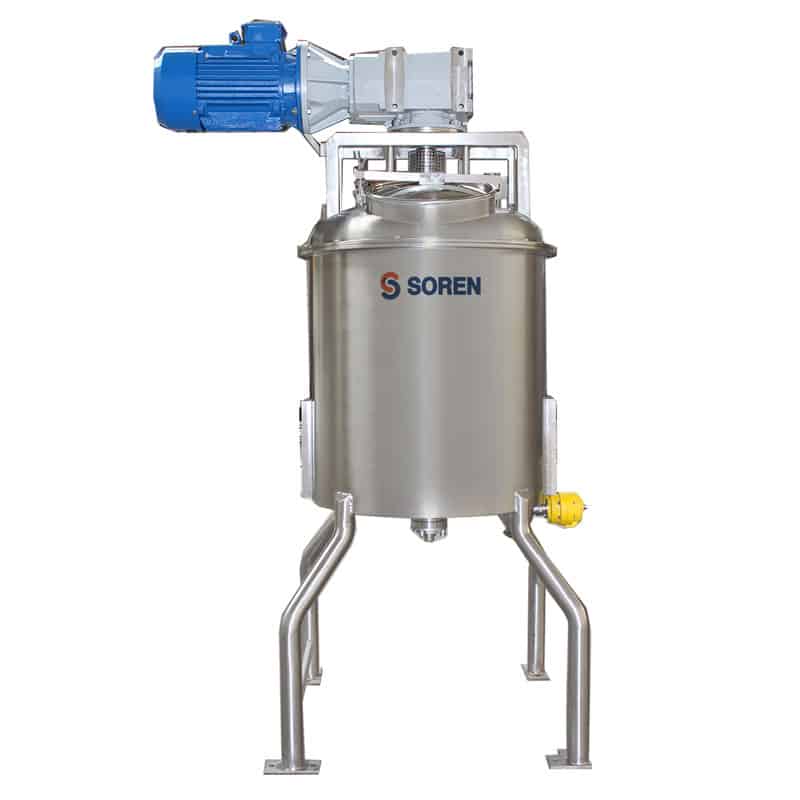 Other standard features:
Material in contact with product: AISI 316L
Dome top with circular manhole, dim: 420 mm
Baffle
Inside surface finish: fine polished
Outside surface finish: 2B
Connections for ingredients feeding
C.I.P. connections with washing balls
Vent
Adjustable sanitary feet